Low Rate credit card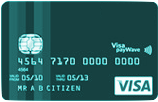 Finance your next holiday with our great new low rate credit card!
Standard variable rates: 13.20% p.a. on purchases; 22.10% p.a. on cash advances.
Interest free period
Up to 45 days interest free on purchases, pay off the full balance by the statement due date monthly.
Features
No annual fee in the first year, a saving of $60
The convenience of Visa payWave allowing you to make purchases under $100 in seconds by holding your card against the payWave terminal.
Additional cardholder at no extra cost
Apply now