Gold credit card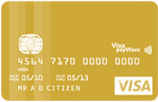 Want to buy a helicopter on the spare of the moment? With our Gold card you can!
Standard variable rates: 13.20% p.a. on purchases; 22.10% p.a. on cash advances.
Lots of different types of rewards and so on.
Interest free period
Up to 45 days interest free on purchases, pay off the full balance by the statement due date monthly.
Features
Really high limit
Another feature.
Additional cardholder at no extra cost
Apply now